Started in 1992, Airmetrics is located in Eugene, OR, and is an enterprise fund of the Lane Regional Air Pollution Authority (LRAPA). Airmetrics, in conjunction with the US EPA, developed the patented low-flow technology found in the MiniVol Portable Air Sampler to address the need for portable, ambient air sampling.

Proceeds from the enterprise fund are used to supplement LRAPA's budget by covering some fixed costs and providing for numerous capital improvements.

Customer Base
Current users of the MiniVol™ include domestic and international air quality authorities, government agencies, consultants, and mining companies. Domestic users include the US EPA, US Army, USDA, South Coast AQMD, Utah DEQ, and the Cheyenne River Sioux Tribe. Consultants and mining companies using the sampler include Desert Research Institute, Secor, CH2M Hill, Bechtel/Parsons Brinckerhoff, TRC Corporation, Newmont Gold Company, Homestake Mining Company.

Airmetrics' product line can be found world-wide, with customers ranging from the Cairo Air Improvement Study in Egypt to universities in Norway, Japan, and Mexico. Both rugged and reliable, the MiniVol™ has proven its effectiveness in ambient air sampling at remediation sites, prescribed burns, fugitive dust studies, manufacturing locations, mining operations, and power plants.

Additionally, the US EPA Saturation Monitor Repository is composed largely of MiniVol™ samplers. The patented low-flow technology used in the MiniVol™ was jointly developed by Airmetrics and the US Environmental Protection Agency.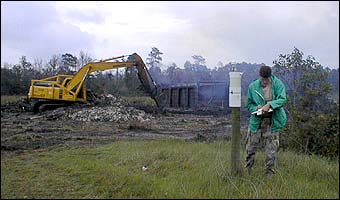 US EPA

East and West Coast repositories, Northwest Tribal repository
USDA ARS
Fugitive dust studies
USDA Forest Service
Prescribed burnings
US Army CHPPM
Deployment environmental sampling
US Air Authorities
CARB (currently used in the CRPAQS 2-year air study in the San Joaquin Valley), South Coast Air Quality, Pinal County, Alachua County, Utah DEQ, Idaho DEQ, South Dakota DENR
Consultants
Secor, Desert Research Institute, CH2M Hill, Dames & Moore, Harding Lawson, Bechtel Parsons-Brinckerhoff, McVehil-Monnet
Mining Companies
Homestake Mining, Coeur Mining, Cypress Miami Mining, Independence Mining, Cripple Creek and Victor Mining
International Organizations
World Health Organization, Pan American Health Organization, US AID
International Use
Global use of the MiniVol ranges form Japanese auto manufacturers to South Korean research institutes, Malaysian power stations, African gold mines, and Mexican universities.